Construction & piping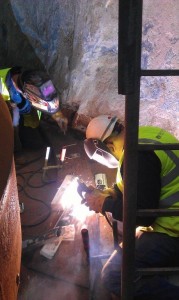 Multifacited
Our construction & piping department is widely oriented. The range of activities varies from the measurement, production and assembly of piping works (i.e. cooling water, freon, oil or gasoline) to the construction of hoisting and excavation tools, landings, plating and fencing.
We do this for the fishing industry as well as for numerous other clients.
Welding
Depending on the type of material (yorcalbro, cunifer, aluminum, stainless steel), various welding techniques are used for in-house and on site. The employees are continuously trained in the field of new technologies and security and are equipped with the best protective equipment, clothing and shoes.
Quality and safety
All employees of Venus & De Waard are VCA certified and work according to the latest classification requirements and guidelines in the field of occupational health and safety, environment and hygiene.